BHAKTI ~ a New Age Album
For your consideration in the 57th GRAMMY® Awards ~ B H A K T I
Avgerinos is one of the Giants of New Age Ambience – ALL MUSIC GUIDE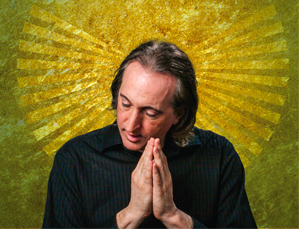 Bhakti is love – loving God, loving your own self, and loving all beings.  – Amma
Paul Avgerinos Vocals, bass, nylon, steel, 12 string and echo slide guitars, keyboards and sound design
Camila Celin Sarod
Kevin Braheny Fortune  EWI
Steve Gorn Bansuri Flute
Dayashila  Angelic Diva of AH and OM
Neel Murgai  Sitar
Arun Ramamurthy  Violin
Christine Yandell  Angelic Vocals
All compositions written by Paul Avgerinos
Produced by Paul Avgerinos at Studio Unicorn, Redding CT 
Mastered by Michael Fossenkemper
Cover Design by Joe Frank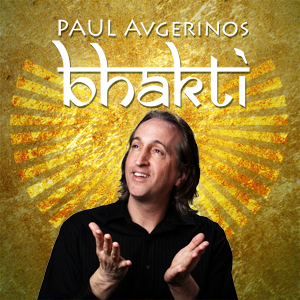 A celebration of love and devotion. Avgerinos offers a joyful and uplifting feast for the ears in this East meets West and Christian meets Hindu riot of sound. 
Perhaps the most joyful and uplifting Avgerinos project to date, Bhakti, is a Sanskrit word meaning love and devotion. It differs from his previous 18 albums in its Indian centric celebration of sound that also brings the Avgerinos voice front and center. Not since the 2005 album Phos Hilaron have we had the pleasure. This latest album combines Indian sitar, sarod, bansuri flute and violin with EWI, nylon guitar, groovy Bollywood beats and Christian Sanskrit mantras. Avgerinos combines devotion and joy perfectly to create a kirtan-lite new sound that is accessible to a wide audience.
Although I was brought up in the Greek Orthodox Church, I became a student of a Bhakti yoga guru from India when I was 16. All my life I have practiced yoga, meditation, chanting and devotional singing. For the last 20 years I have also been very active in a small Christian church near my home, singing and praying there. Increasingly I have been drawn to blend the most personally meaningful aspects of Bhakti yoga and Christianity together in a harmony of pure divine love. With devotion, gratitude and joy I offer you this album, BHAKTI .  – Paul Avgerinos
ABOUT THE ARTIST
Paul Avgerinos is an award winning composer and producer whose music is broadcast all over the world. His music has been heard by well over one billion people. Paul has been involved in a number of platinum album productions and has collaborated with Aerosmith, Jewel, Run DMC, and Willie Nelson.
Paul lives and works in Redding, CT, where the deer pass by his studio windows and the hawks and eagles give inspiration from above.
For a full album download Click Here  *  For a physical copy please email your address
Thank you for your consideration and support ! ! !