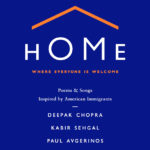 Posted on September 19, 2017 by Paul in Music

I'm thrilled to announce the release of HOME: Where Everyone Is Welcome, a collaboration with Deepak Chopra and Kabir Sehgal. This New Age album also comes with a book of 34 poems and stories celebrating American immigrants and their remarkable contributions to American culture and society. Home also features producers Will Ackerman & Jeff Oster […]

No Comments. Continue Reading...