Words Touch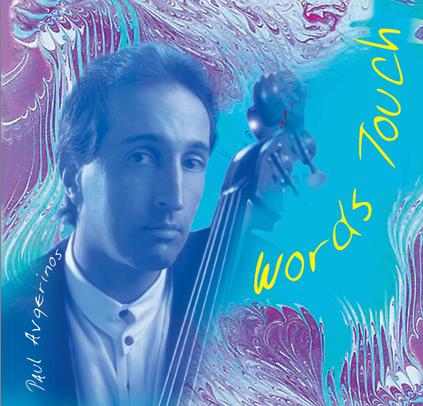 Words Touch, is a subtle and delicate tapestry of gentle melodies and exquisite sound design . Featuring the soaring EWI ( Electronic Wind Instrument ) of Kevin Braheny , The masterful guitar of Brian Keane , the unique guitar work of Jeff Pearce, and the fabulous Cello of David Darling , Words Touch is perfect for Massage , Meditation , Relaxation and Contemplation .This album has a steady, even and deep flow , designed to nurture profound states of consciousness .
Heaven Sings
Song Without End
Always With You
Words Touch
Floating Clouds
Weightless you Are
Empress
In my Heart
Paul Avgerinos ~ Fretless Bass, Guitar Synthesizers, Sound Design and Choirs
Kevin Braheny Fortune ~ EWI  Electronic WInd Instrument
David Darling ~ Cello
Jeff Pearce ~ Processed Guitars
Brian Keane ~ 12 String, Electric  and Nylon guitars
Reviews
Paul Avgerinos is one of the giants of new age electronic ambience . Words Touch is a melodic and gentle album with symphonic textures and ambient timbres. The atmospheres compliment the melodies. Avgerinos has a knack for painting pictures with his soundscapes. This CD is a soundtrack without a film; the romantic arrangements are heartfelt and warm.
Deep listeners will feel welcome in this easy sound world .
Jim Brenholts – All Music Guide
Paul Avgerinos was trained as a classical bassist,but his recordings have always featured lush electronic soundscapes. From the swirling sequences of Balancing Spheres, to the Middle Eastern tinged Muse of the Round Sky , Avgerinos's scale has been grand . His album Sky of Grace even included vocal choirs made up of countless overdubs of his own voice . The choirs return on a few tracks of Words Touch, but the melodic lines are also carried by Jeff Pearce's now trademark voice like glissando guitar, the distinctive wind synth of Kevin Braheny Fortune, and the emotive cello of David Darling . It's often hard to tell which instrument is playing at any moment, as guitars and synths duck in and around the vocal choirs and bowed strings . That seamless flow is part of the point, as these tracks drift timelessly through emotions and mood . Guitarist Brian Keane adds some 12 String arpeggios to Song Without End and that's about as rhythmic as this album gets on it's slow journey . It's not shapeless ambience, there are melodic signposts to mark the way, but with Three tracks over Ten minutes in length, it's clear that Avgerinos is not in a hurry to get home .
Words Touch is unrelentingly lovely !
Jeff Towne – The New Age Voice
Paul Avgerinos' Words Touch is one of the most serene peaceful and beautiful albums of warm ambient music in recent years. The multi-instrumentalist (fretless bass, keyboards, vocal choirs) is joined on the disc by an all-star lineup featuring Kevin Fortune, a.k.a. Braheny (ewi), Brian Keane (12-string guitar), David Darling (cello), and Jeff Pearce (guitars and "wire choir"). Music-wise, an appropriate comparison would be to the music of Liquid Mind, although the sound on this CD is obviously more diverse and of a different musical nature than Chuck Wild's (Liquid Mind) synths, strings and synth chorales (although some tracks are remarkably similar yet not imitative, e.g. the dreamy soothing twelve-minute with flowing synths, Avgerinos' superb wordless vocals and shimmering bell-tree tones). Tracks which feature Fortune (Braheny) are notable for (of course) his unique and trademark ewi (for those who don't know, that is a synthesizer played as a wind instrument which has an immediately identifiable warm rich sound; the instrument is referred to as a wind synth in the liner notes). Those cuts include the brief opening Heaven Sings which also features a gently circling keyboard texture and the next one, Song Without End, which showcases Keane's sparkling guitar playing as his notes twinkle against the starry backdrop of Fortune's spacy warm EWI.
Other cuts include the beautiful title track, glowing with softly sighing choirs and lush keyboards that pull at the heartstrings like a siren song, Floating Clouds which again features Fortune's expressive wind synth, this time cast against a more minimal classic spacemusic backdrop of cosmic-sounding keyboards in one of the more ambient pieces on the album until rhythmic EM elements emerge toward the end, and In My Heart one of the more haunting uses of choirs I've ever heard. Avgerinos has a commanding vocal presence but he shows such perfect restraint that the music never becomes overpowering, instead finding a flowing sense of inner grace and beauty. The track has an almost hymn-like quality, reverential but in an extremely low-key fashion.
There are also two other longer tracks, Weightless You Are and Empress both of which clock in at more than ten minutes. As you might guess from the former's title, it's floating spacemusic/ambient/new age music, filled with flowing keyboards, ethereal choirs, and a mild sensation of flight married to occasional ebbing and flowing dramatic surges in the music. The track then morphs into a merger of subtly twinkling bell tones and washes of synthesizers that carry you along effortlessly on a cushion of warmth and serenity. Empress is even spacier, comprised of soft rich drones and synth textures, i.e. a perfect slice of spacemusic. The drone undulates patiently, a lmost imperceptibly at times, as the background keyboards (cut from the same cloth as Constance Demby at her most subdued) impart a sense of vastness stretching out before you.
Words Touch is one of those albums that mystify me with its lack of acclaim from spacemusic and ambient music fans (it was released back in 2001). I honestly don't know what more you could ask for in an album in those genres than this one delivers. It's expertly recorded, maintains a cohesive musical vision throughout yet also varies enough to not be monotonous in any way, shape or form, and is overflowing with superbly played music by artists who obviously know what they're doing (to say the least). Granted, if you only enjoy music which casts a dark shadow or fills you with a sense of dread or mystery, this ain't it. Avgerinos obviously means to surround his listeners with calm, soothing wave after wave of bliss and comfort. With Words Touch he and his collaborators succeed in every respect. This is an exceptionally relaxing recording and belongs in your library if you consider yourself a spacemusic fan in any regard whatsoever. Highly recommended !
Bill Binkelman – Wind and Wire
Recorded and mixed at  Studio Unicorn  Redding, CT