Sky of Grace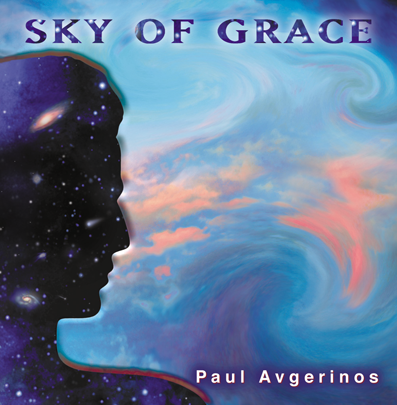 Sky of Grace is sophisticated and sensuous sound design, an architectural landscape sculpted with world beat percussion, guitars, violins, cellos – pulsing with the power of 200 voice choirs . Healing and uplifting, expansive with the infinity of mind – The Sky of Grace .
Sky of Grace was chosen as  The Best Recording of 1998  by Hannah Shapero of Wind & Wire Magazine .
Sky of Grace was voted the 4th best album in 1998 by the Backroads Music staff .
I find myself . . . looking up ~  The sky is always different, full of wonder, beauty and magic . Healing Light and Love flow in all directions . Both metaphor and reality, the sky is the essence of life ~ Light .
We are fed by compassion and joy, the balm of ecstasy . Endlessly we are filled, openings to the
S K Y   o f   G R A C E . . .
An offering of Gratitude
a Prayer of Thanksgiving
we are showered
with light
compassion
bliss and love
put on a form
choose a face
above and below
the Sky of Grace . . .
Paul Avgerinos ~ Bass Violin, Fretless Bass, Guitar Synthesizer, Keyboards, Percussion and 200 Voice Choirs
David Darling ~ Cello
Brian Keane ~ 12 String, Electric  and Nylon guitars
Chaula HopeFisher ~ Vocalizations
Yo Yo Blue ~ Electric Violin
Reviews
This new music drifts higher into a universe of ethereal sound-clouds, rather than the sunlit Mediterranean of the earlier album. Even when Sky of Grace has rhythm and percussion, it remains all contemplative, filled with a mood of mystical reverie. Avgerinos shows his competence as a composer and arranger on this album. He is a master of sound textures, especially with strings. He has some of the best people in the field playing for him : David Darling on cello and Brian Keane on guitars. Avgerinos himself plays both the bowed string bass and the electric fretless bass; his playing of these unforgiving instruments is so expressive that it sounds almost like a singing voice. Avgerinos' jazz harmonies, slowed down to an ambient pace, are very much his own – his style is easily recognizable. He also uses a sighing, crooning "choir" of electronically multiplied voices, who sing in better tune than any real human choir – a chorus of cyber-angels perhaps. These guide us through many tracks filled with sensuous languor and mystical yearning, such as the opening "Angel Breath" or "Graceful", later in the album. On other tracks such as "The Calling" or "Dance of Life", slow percussion and distant-reverbed guitar notes add a slightly harder quality. Track 8, "My Father's Prayer", is an imaginative interpretation of the sound and mood of Byzantine chant (Avgerinos is of Greek descent, thus his father would probably have prayed Eastern Orthodox prayers) in which the cyber-chorus keeps on low, repeated chant notes without singing identifiable Greek words or Byzantine melodies. It's a moving , serious piece, coming in the midst of an album which can honestly be called "New Age". This album is a joy to listen to – hearing it brings a sense of release from cares and comfort for the weary soul. It does not try to push some "message" of facile "world consciousness" or "personal growth" on the listener. It gently weaves along with it's mood of cosmic warmth and a very welcome sense of wonder, twined together with crystal sound-sparkles and strands of singing strings. – Hannah Shapero – Wind & Wire
Recorded and mixed at  Studio Unicorn  Redding, CT