Muse of the Round Sky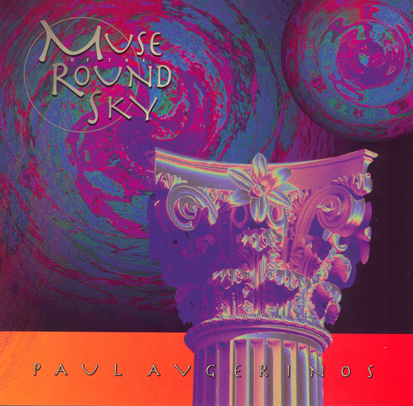 Muse of the Round Sky is a musical adaptation of Homer's Odyssey ~  A journey back to the ancient roots of our civilization .  Featuring Omar Faruk Tekbilek, Ara Dinkjian and Marion Meadows .
Vibrant with the elemental beauty of the Greek islands , flowing with the bardic song , dancing with the ancient rhythms , Muse of the Round Sky  journeys to the heartland of Western civilization to find a resonance for today . Avgerinos draws on his classical music background and his Greek heritage , exploring a mythos inspired by Homer's epic poem , The Odyssey .
Paul Avgerinos ~ Bass Violin, Fretless Bass, 12 String and Nylon Guitars, Keyboards & Sound Design, Vocals, Percussion
Omar Faruk Tekbilek ~ Ney Flutes & Percussion
Marion Meadows ~ Soprano Sax
Brian Keane ~ Nylon, Electric and 12 String Guitars
Ara Dinkjian ~ Oud
Reviews
One of the deepest, most moving works since Peter Gabriel's Passion . Bewitching compositions . Reaches back through the eons. The mix of ancient acoustic, and cutting edge digital instruments creates a timeless quality. A journey of discovery to mystical places, encountering magical characters. A discovery of self and of history .
Synthesis
An ambitious and successful project. Vibrant, flowing, and ecstatic, this sonorous masterwork should be listened to without interruption .
P. J. Birosik, New Age Retailer
Sure to fuel the imagination with its richly impressionistic soundscapes . Hot desert winds seem to blow through selections featuring Omar Faruk. Brian Keane contributes elegant acoustic guitar, and soprano saxophonist Marion Meadows wails like an ecstatic dervish. Dense synthesizer textures and dreamy electronic effects…make Muse of the Round Sky feel lke one long luscious mirage .
Linda Kohanov, New Age Journal
" How sweet it were, hearing the downwards stream, /With half shut eyes ever to seem/Falling asleep in a half dream ! " Tennyson's " The Lotus Eaters " could describe the music of Paul Avgerinos. It evokes the archetypal mythis of those most ancient days .
New Visions
Unlike anything I have previously encountered . A fine album, defying categorization. Try? Well, how about early Tangerine Dream meets Peter Gabriel's Passion . Close, but not quite, and that's meant as a big compliment .
The Name [London]
Wow! A really incredible project. Atmospheric music painting a rich sonorous landscape, tinted with Greek and Arabic overtones, drawn from a haunting, soulful palette. A space music classic . Highly recommended .
Tom Farrell, Music Connection
Avgerinos draws on his Greek heritage more successfully than Yanni and Vangelis. Beautifully recorded, relaxing and thoughtful. A great soundtrack for your own private movie .
County Advocate, Fairfield CT
Recorded and mixed at  Studio Unicorn  Redding, CT
Mastered by Stephen Hill ~ Hearts of Space