Love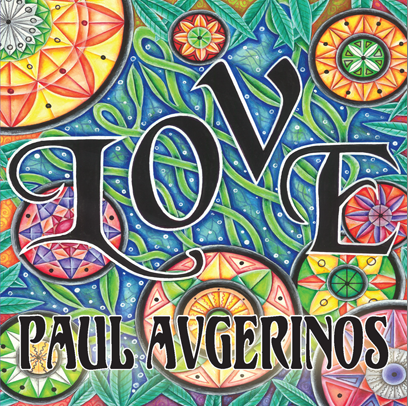 Blissful Lullabies celebrating our highest vibration  ~  LOVE
A sacred space of deep blissful contentment. The fertile soil of peaceful grace where we are able to feel and free to be our true nature… LOVE
Kevin Braheny Fortune  ~ Clarinet, Electronic Wind Instrument, Alto Flute, Soprano Sax
Paul Avgerinos  ~  Cello, Bass Violin,  Guitars ( 12 String Acoustic, Electric Swell, Echo Slide ) Vocal Choirs, Synthesizers & Sound Design
Without Kevin Braheny Fortune, this album would not have been as lovely . Kevin improvised the melodies of tracks 1, 3, 5, 6 & 8 completely without accompaniment . I then joyfully orchestrated around his brilliant poetic lyricism .
This album is dedicated to my dear Mother and Father resting in peace . They showed me by their selflessness and devotion, what true Love really is .
It is my fervent desire that all beings will feel , receive and give unconditional blissful Love with increasing ease and comfort .
Reviews
Excellent
Once again working with Kevin Braheny Fortune (formerly just Kevin Braheny), multi-instrumentalist Paul Avgerinos has released a literal musical homage to the greatest and most powerful of human emotions. Titled simply Love, the CD epitomizes the subgenre which has come to be known as romantic spacemusic. Of course, with these two notable spacemusic pioneers guiding the listener, he or she is assured of a wonderful trip on wave after wave of bliss and contentment, since their pedigree contains such gems as Brahenys classic The Way Home and Avgerinos recent highly lauded releases Words Touch and Phos Hilaron. As well acquainted as I am with both of these musicians and their considerable talents, even I was surprised at the resplendent beauty of this albums nine tracks. Love may very well be their masterpiece as collaborators.
Musically, the CD displays the perfect blend of stylistic variety across the tracks while also maintaining a unified cohesive theme so as to not jar the listeners mood. Braheny Fortune plays his (now trademark) electronic wind instrument (EWI), as well as clarinet, alto flute and soprano sax, while Avgerinos once again demonstrates his virtuosity across a spectrum of instruments: cello, bass violin, assorted guitars (12-string acoustic, electric swell, and echo slide), synthesizers and vocal choirs.
Song titles paint an accurate picture of what to expect in the way of the musics mood ~ Acceptance, Oceans of Bliss, Healing Touch, and Tranquil to name just four of the nine selections. However, as I mentioned above, while the album has an overall dreamy romantic feel to it, the individual cuts explore distinctly different approaches. Part of this is because of the variety of instrumentation, track by track, employed by the two artists, but the music itself also traverses an assortment of sonic territories. The opening Love Is has Braheny Fortune weaving a soft lilting sensual melody on clarinet over a bed of Avgerinos lush synth washes, twinkling bell trees, and great swells of spacemusic keyboards. Acceptance opens with an echoed guitar note refrain against a backdrop of shimmering tones and morphs into a patient soundscape featuring a blend of Avgerinos great slide guitar as well as the same opening style of gently strummed electric guitar notes. Oceans of Bliss marks the first appearance of the luxuriant EWI which is Braheny Fortunes stock in trade, set against a backdrop of a multitude of spacy (yet gently applied) synths, some of which have a recognizable retro sound to them (pleasantly so, I might add). Seven Deep Breaths showcases a type of wide vista spacemusic, harkening back to the aforementioned The Way Home. Layered synthesizers, choirs, and what I think is cello (or bass violin) merge together seamlessly, forming cosmic musical waves, softly ebbing and flowing with grace (a smattering of bird song is, surprisingly, a nice touch).
The five remaining tracks hold many more delights, from the neo-classical influences on Surrender to the softly playful flute of Healing Touch to the closing ethereal transcendence of Always Within You (which has an angelic yet celebratory and uplifting feel to it, as if the music was meant to convey a tired soul being lifted up to heaven).
Avgerinos dedicates Love to his parents, both of whom have passed on, and the deep emotions the artist must feel towards them flow throughout the entirety of this CD. Whether you share this beautiful music with a loved one during a moment of intimacy or romance, or you simply show some love towards yourself and bathe in its warm glow, you will appreciate the care and love that went into the making of this album by two musicians who clearly are at the peak of their creativity here.
Rating: Excellent ~ Bill Binkelman ~ Zone Music Reporter ~ 1/23/10
B L I S S
Soft, gently moving clouds of atmospheric synthesizers, gorgeous wisps of wind and reed instruments, strings weaving in and out of the mix . . . those are a few of the hallmarks of Grammy Nominated artist Paul Avgerinos's aptly titled album LOVE
This is an album designed to help one find their inner bliss,utilizing flowing ambience that calms and comforts the listener . Avgerinos is joined on the album by Kevin Braheny Fortune, who brings his tried and true playing of Clarinet , flute and Sax into the mix .Those accents add to the Cello, Guitar and Violin laced soundscapes of Avgerinos, which are further enhanced by twinkling chimes, nature sounds and shimmering keyboards . To say that this album is serene is an understatement ; LOVE dissolves your worries , makes you feel refreshed and, of course, Loved . Daniel Cowan ~ Music Design
Recalibrate your Wavelength
An aural re-centering in balance and restraint for turbulent times.
This could well recalibrate your wavelength ~ Carol Hearty!
A Leader in New Age
Paul Avgerinos has been a leader in the new age/ambient music movement for many years, and his latest release, Love, underscores why. Definitely on the ambient end of the musical spectrum, this music creates a mood of warm tranquility and holds it for a little over an hour, leaving the listener relaxed, refreshed, and uplifted. The Avgerinos publicity sums up this release as, Blissful Lullabies celebrating our highest vibration ~ Love, so saying that it might put you to sleep is not a negative. Avgerinos appears on cello, bass violin, a variety of guitars, vocal choirs, synthesizeers, and sound design. Kevin Braheny Fortune plays clarinet, electronic wind instrument, alto flute, and soprano sax. He improvised the melodies for four of the tracks without accompaniment, and then Avgerinos orchestrated around his brilliant poetic lyricism (quoted from the liner notes).
In the background, Love provides a soothing and unobtrusive environment for working, reading, conversing, napping, or any number of activities. In the foreground, it will provide a massage for the mind and spirit and gently let the cares of the day slip away. Beautifully-engineered so that the sounds wrap you in their warmth and colors, this is ambient/new age music done right.
Kathy Parsons ~ MainlyPiano.com
A Must for your Collection
Paul continues to provide excellent new age music with his latest CD "LOVE". Beautiful melodies and a must for your collection. You will certainly enjoy it!
R. Woll ~ Astreaux World
Ethereal and Mesmerizing
Ethereal and mesmerizing…this album creates and incredible atmosphere that is soothing for the soul. Paul Avgerinos, once again, demonstrates a masterful ability to orchestrate ambient instrumentation.
Lisa Furman
Soul-Stirring Music !
Paul's compositions are soul-stirring and can evoke deep meditative states. I recommend his music to anyone who loves spiritual music.
Pramod K. Uday ~ India
Experience the Love…
Paul's music can be like taking a journey to a rare destination or a moment in soul. LOVE ~ these songs are a beautiful expression of love, soul, connection… a true gift to experience and be shared. I encourage you to listen to the sampler or just dive in and get this cd… and embrace the love!
star1919 ~ Denver, CO
Recommended for Yoga
Described as Ambient New Age, Love is one of a collection of albums by Paul Avgerinos created for use in Reiki, Meditation, Healing, Yoga and many other uses. This intention is made clear in the songs' slow and soothing rhythms. The first song, Love Is sets the pace and tone for the entire album. The album's smooth transition between songs, coupled with the common theme will help you keep your concentration during a meditation, as well as keeping the flow during your next Reiki session.
It was difficult to single out individual songs for review since they all share a very similar theme. Instead, I chose to look at this album as a whole, and as a whole I think it achieves exactly what Avgerinos intended. This would make a good addition to your smooth-listening collection. As for this reviewer, I am going to recommend it to a local Yoga teacher.
Chris "Thaskalas" Madison ~ Pagan Radio Network
Astounding Beauty
As always Paul Avgerinos delivers an album of astounding beauty. LOVE is a record of gorgeous sound-scapes that only a refined ear and clear mind, like Mr. Avgerinos', could have created. If you are an avid listener of New Age or Mood musics or if you are interested in this genre but have not yet entered in, this is a great record and I highly recommend it.
Brendan McNerney ~ BAM
Seeing in Technicolour
Seeing in technicolour, feeling goosebumps and a slowly spreading pleasant warmth. What`s this feeling? It`s Love by Paul Avgerinos.
Touchingly dedicated to his parents, who Avgerinos credits with showing him by their selflessness and devotion, what true Love really is, this hour and a bit, nine track album is an uplifting, dreamy and sensual trip to the realms of love in some of its many different forms.
From the first notes of Love Is, the title track from the album, you know you are in for a delicious listening experience. It`s not often I get so excited at first listen – the mix of mellow, compelling melodies with delicate chiming accompaniment builds excitement for the tracks to come. This is an album with a wide variety of instruments on it – and as such, feels wonderfully rich to listen to.
Acceptance is a slow, reflective piece moved along by slide guitar melody and a sparkling backing track giving the impression of tree leaves rustling in the wind – like a walk through the park on a summer`s day. Oceans of Bliss takes the listener down into the depths of a watery world with synth-sounding melody and ripple-like chimes alongside ocean sounds.
But after being sumbmerged in bliss, it`s only sensible that the next step to take is Seven Deep Breaths – a foray into a higher warmer tone of piece that has a mysterious far-eastern sound and within which slow string melodies breathe life and mystery into the track.
Surrender seems to me the stand out track on this album. Sharp and echoey sounds drum in the wind melody with an air of tentative excitement that creates a welcome change of direction in the album, whilst Healing Touch is a tenderly played track that trembles with emotion.
Rivers of Love is a flute driven, other-worldly sounding piece with an echoing wistfulness of synth effects.
Returning to the watery depths in Tranquil; whale calls and wind melody beckon the listener to a safe reflective space in time, with Always Within You as a dreamy and sparkling swansong for the album.
As diverse as the arrangements in this album are, I would recommend taking the time to listen to it in its entirety, rather than track by track. This is not the sort of album you pick up and listen to one or two favourite tracks before changing CDs. Love is an album to get lost in – a pleasantly healing and indulgent way to spend sixty minutes. Whether smitten with new love, celebrating found love or reflecting on lost love, this is a perfect album to fall in love with.
Kate Russell ~ New Age Journal
Love is The Word
There are thousands of ways the word love can be defined. When talking about the word in an interpersonal context, everyone can easily recognize their true feelings and just know they love someone without a written description to define what they are feeling.
Paul Avgerinos is the composing musician behind the album having a title and theme related to the divine word we call love. This New Age artist who named his positively feel good album after one of our most primitive and basic needs we possess received NAR / ZMR awards for Best World Album in 2007 with Garden Of Delight, and Best Relaxation / Meditation Album in 2006 with Gnosis. Many of his songs also enjoy abundant airplay, sharing his relaxing music at the top on many online radio charts.
Paul's latest album titled Love does focus on both the nature and nurturing side to music, giving a caring gentle touch to ambience while providing a definition of what the word love means to him on a personal level, both in music and by his own compassionate words.
This album is dedicated to my dear Mother and Father resting in peace. They showed me by their selflessness and devotion, what true love really is. It is my fervent desire that all beings will feel, receive and give unconditional blissful love in all it's forms with increasing ease and comfort. Paul Avgerinos
The Round Sky Music label is at the heart of Paul's discography, where Ambient, Healing, and Relaxation music is expressed in an ever present restful state of mind and where anyone who searches for it can find Love. With his latest like prior albums, Paul performs in his natural musical state of contentment playing cello, bass, violin, 12 string acoustic, electric swell & echo slide guitars, vocal choirs, synthesizers & sound design. Paul does recognize inside the CD cover that the Love album would not be a reality without the dedication of his friend and co-musician Kevin Braheny Fortune.
Kevin's role was to first lay the groundwork for many of the songs, while also providing key instrumentation throughout, giving the entire project equal balance between the two artists while they each gave their personal interpretation about the gift of love musically. Kevin plays clarinet, electronic wind, alto flute, and soprano saxophone while sharing his own give and take for this relaxing project titled after the easy to understand, yet difficult to define word. Dictionaries provide a simple explanation of the complex feelings involved when we love someone, so here is a quick check of the basic concept.
Love ( Luv ) Noun. Term of endearment for the intense emotional attachment towards another person, based on a principal sense of commitment, loyalty, and devotion, valued on their personal qualities, sharing oneness that is without exception.
Love is without exception a comfortable feel good album, fulfilling by an abundance of deep and colorful Ambient sound escapes that completely encircle you with relaxing tonal qualities. This trademark music with a calming effect will never leave you all alone at a shallow plane in notes or isolated at some distant horizon in sound, so expect plenty of sentiment along the way.
I found the harmonic notes often appear as incremental abstract layers of color that lightly drift and surround you, only wavering at the next soft touch of brass, string, or woodwind instrumentation. The lighter notes often appear to rise above at times to reach a plateau then gently settle into a middle range melody, providing equal balance with a distinctive atmosphere while also securing the album's ambient concept. While this Love album may not strike at the very core of our existence as the title might suggest, it does succeed at offering an inner peace through gentle calming ambience that one can easily become attached to. You will also find yourself inspired by Paul's sincere commitment for sharing his musical expression on this album while giving and receiving love in an unconditional manner, just like the word love was meant to be.
John Olsen NewAgeMusicWorld.com
Recorded and mixed at  Studio Unicorn  Redding, CT