Garden of Delight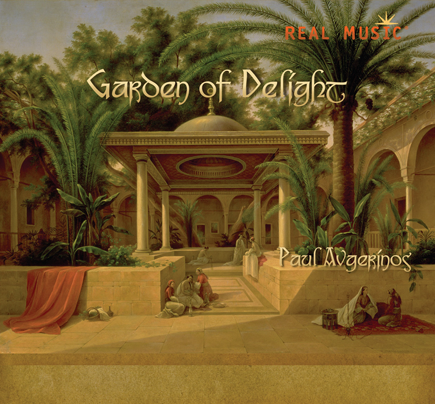 Best World Album 2007 – Echoes CD of Month – Top Ten on New Age Radio !
Upon the tree of life       we gaze deeply 
the eyes of God        shine in you 
boldly we dare        let go of the shore 
we float in bliss        river of life 
ocean of love       Garden of Delight
A magic carpet ride through the splendorous cradle of civilization featuring Omar Faruk Tekbilek. Exotic, sensual, hypnotic, mysterious, enchanting ~ Middle East dances with West ~
Blissful Joy in the Garden of Delight .
Garden of Delight is on the Real Music Label ~
Paul Avgerinos ~ Bass Violin, Fretless Bass, 12 String and Nylon Guitars, Keyboards & Sound Design, Vocals, Percussion
Omar Faruk Tekbilek ~ Ney Flutes, Poetry, Vocals, Baglama
Kevin Braheny Fortune ~ EWI  Electronic Wind Instrument
Steve Gorn  ~ Bansuri Bamboo Flute
Rachid Halihal ~ Violin, Poetry, Vocals
Brahim Fribgane ~ Oud
Rohin Khemani ~ Tabla & Percussion
Christine Yandell ~ Angelic Vocals
Malika Zarra ~ French & Arabic Vocals
Reviews
Garden of Delight is completely seductive and captivating from beginning to end. In fact, I had been contemplating a show of such a "sound" of distant enchantment and dreaminess. And it showed up!!!! Very few albums come along with every track perfectly interesting and pleasing. Thank you,
Carla Van Dyk WDVR fm
The masterly musical painter of sensual delights has done it again! This time, we're taken on a magic carpet ride of Eastern delights. Light a scented candle & dig your ears into this garden. Paul Avgerinos is an aural genie granting us immeasurable pleasures…
Captain Christopher WTUL fm
It's a journey into eastern exotica on Garden of Delight, the latest album from Paul Avgerinos. Avgerinos is a veteran musician and multi-instrumentalist who was trained at the Peabody Conservatory and worked as an orchestral bassist. That was before he heard Wendy Carlos's Switched-On Bach and decided to plug in.
He's still wired, but now he uses his Connecticut studio as mission control for a world fusion sound that employs musicians from Turkey and the middle east as well as western players on instruments as technologically polarized as the Indian Bansuri flute and Electronic Wind Instrument (EWI). The flute is played by Steve Gorn, who weaves his soul-drenched melodies like wisps of smoke curving off a candle.
Listeners of New Age records in the 1980s might recall Kevin Braheny, who played synthesizers and EWI. He's changed his name to Kevin Braheny Fortune, but that distinctive EWI sound, part flute, part violin, returns here on tracks like "Night Blooms" and "Bird of Paradise," effecting middle eastern slides and arcs.
Avgerinos uses Christine Yandell and Malika Zarra as ethereal choirs and sensual sirens, and plants gentle synthesizer pads across his compositions. Tracks like "Jasmine" could be a seductive walk into a harem while the opening "Rose of Heaven," featuring Avgerinos on nylon-string guitar, creates the perfumed aura of a temple. Turkish Ney flute master Omar Faruk Tekbilek blows his serene, Sufi-inspired melodies across several tracks. He's joined by several other Arabic musicians on Oud, Violin and Percussion, who lend some gravitas to the proceedings. Garden of Delight is an enchanting vision that reveals more each time you travel down its paths.
– John Diliberto, ECHOES
Accomplished producer and musician Paul Avgerinos recently made his Real Music debut with Gratitude Joy, which he created with Anand Anugrah. Garden of Delight marks his first solo album for the label, and is different from the previous effort in that his gaze has shifted to the enchanting rhythms of the Middle East and the Mediterranean coast. Featuring guest instrumentation from Omar Faruk Tekbilek, the album is sensual and silky, with smooth dumbek beats wrapped in a blanket of exotic strings, guitar, light vocal sounds and stark ney flute harmonies. In the backdrop is soft and sometimes shimmering synth ambience, making this garden a place that makes you want to chill as well as be stimulated. Think of it as Middle East meets west, with a laid back twist.
Music Design
By the Tears of Scheherazade
Somewhere out on the plain of Babylon is a magnificent place, a paradise, as foretold in many ancient texts. It is a place of exquisite beauty with lush gardens, roaring waterfalls and such unlimited bounty so as not one of the senses may want. The music that is playing in the background is that of Paul Avgerinos on his latest album, Garden of Delight. The combination of New Age themes and Middle Eastern elements is a pleasure for the ears and manna for the spirit. The music invited me to sit and enjoy eleven tracks that massaged my soul and allowed me to relax, refresh and daydream to my heart's content.
Instrumentation on the recording is as lush and varied as the gardens about which they sing. Paul plays 12-string, bass and keyboards while his well-known collaborator Kevin Braheny (Fortune) plays his electronic wind instrument. Also joining Paul is world-renowned flautist Omar Faruk Tekbilek. Tekbilek's talents came to light in the early 70's as a session musician in Turkey, but he quickly gained fame and a following. He is now known for his contemporary slant on Old World music. The seraphic voices on the album belong to Christine Yandell and Malika Zarra. Robin Khemani provides percussion, Rachid Halihal plays violin, and Brahim Fribgane plays the oud and together they make quite a celestial sound.
Rose of Heaven reminded me of one of those fabulous opening numbers that Loreena McKennitt is so famous for, but this is more than just an intro. It is the story of the beautiful rose whose open hands lift skyward in praise. There is great guitar in Rose of Heaven and a soothing tempo that I found quite calming.
Garden of Delight put the rhythm of the swaying dessert palms and the perfume of a thousand flowers into my mind. There is respite from the hot sun and the splashing of cool water to quench my thirst. If it were not for the accompaniment of the modern instruments, I might be fooled into thinking that I was a visitor to another time.
Jasmine takes advantage of the summer night and the sultry shadows of the moon glow. The dulcet female voices vie with the flute to get my attention and both have equal power. The tempo on this tune is hypnotic as the music dances around me. I cannot help but sway in and out of my own little fantasy.
Variations of the Tree of Life appear in every major religion on the planet dating back from the Garden of Eden to the "World Trees" of Mesoamerica. The superlative track on the album is also called Tree of Life. Haunting flute, whispered voices, and graceful washes of sound and water contributes elegantly the song. There is an ebb and flow to the tune that reminds me of breathing. It is inescapably relaxing.
The last cut Queen of the Night has all the instrumentation in it and soft voices as well. Along with the gentle guitar, the flute summoned me like a warm fire on a cold dessert night or perhaps like the open arms of a dark-eyed beauty. Beauty however can be deceiving. The music leaves no doubt; for the queen commands me and I must obey.
That last Paul Avgerinos album I reviewed called Gnosis had a more spiritual slant. Garden of Delight has an earthy, organic sense that is soothing in many different ways. For the decidedly pleasurable combination of New Age, World and even ethnic genres, I highly recommend this album. The music conjures up everything that man has dreamed of when it comes to paradise. Can heaven be far behind?
Rating: Very Good + reviewed by RJ Lannan on 7/17/2008 New Age Reporter
Recorded and mixed at  Studio Unicorn  Redding, CT
Mastered by Michael Fossenkemper,  Turtle Tone Studios